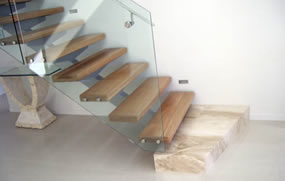 Inspiring Staircases
From classic to contemporary design, we aid in selecting from a range of natural stones that create gorgeous staircases for your home. Our natural stone staircases become the centerpiece of your room and leave a lasting impression on guests. Whether you're looking to develop interior or exterior stairs, our natural stones are not only beautiful, but also durable and reliable.
Since 1996,
Willis Bros.
has created staircases in a range of styles, surfaces and practical shapes for every type of home and business. We specialise in providing customers with custom-made staircases that last for decades.

Modern Natural Stone Staircases


Natural stones have been used to create one-of-a-kind, regal staircases. Natural stones such as marble, granite and onyx make for gorgeous entryways, as well as many other stones from our trusted suppliers.
We have partnered with our
natural stone
suppliers based off their expertise and range of incredible stone selection. With over 100's of colours and styles, Projectstone, CDK Stone or Finestone provide handcrafted, luxurious stones individually crafted for your home.
Call us
today to hear how we can build a custom staircase for your home or business, or drop by our
showroom and factory
in Carrara, Queensland to meet our team and view natural stone samples.
Staircases Gallery