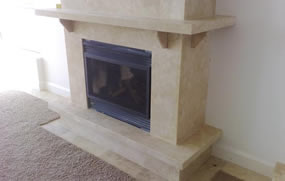 Inspiring Fireplaces for your Home
A stone fireplace adds a touch of elegance, warmth and sophistication to any room. Willis Bros. Marble & Granite is the leader in natural and engineered stone fireplaces on the Gold Coast and specialises in creating custom fireplaces that add a luxurious ambiance. Whether you're looking for a traditional centerpiece, or a modern, sophisticated design, we offer custom styles to suit every home or business.
Our contemporary designs may include a stone surround and mantle, and are available in a variety of colours and natural stone slabs. From start to finish, Willis Bros. ensures every task is set to the highest standards when completing your stone fireplace, including a beautiful finish.
Natural and Reconstituted Stone Fireplaces
A hand crafted stone fireplace is an elegant and inviting centerpiece that welcomes guests into a room. Our natural and reconstituted stone designs are created to match with traditional wood fired or modern cleaner fuel fireplaces.
Our range of natural stone suppliers offers a classic appearance to your fireplace. We work closely with
natural stone
suppliers, Finestone, CDK Stone and Projectstone, to produce a fireplace that enhances the entire home.
Match your home's modern decor with an
engineered stone
from Caesarstone, Smartstone, Quantum Quartz, Silestone or Essastone. These suppliers offer a wide range of colours and designs suited for a home needing a contemporary touch.
Our skilled
team
is happy to advise you in your fireplace's design and selection of natural or engineered stone.
Contact us
today or visit us in our showroom and factory for a more detailed discussion.
Fireplaces Image Gallery